About This Fundraiser
Get FIT and help homeless people in the Skid Row Community start the process of rehabbing their lives through physical fitness. Often times physical fitness changes ones outlook on life and is the inspiration that helps someone get on the right track.
Ask friends to sponsor you as you Get FIT, and in the process help homeless folks attain the life changing Bene-FITs of Heath and Wellness!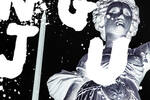 Advancing Justice through Creative Expressions
Our Mission is to Creatively help to Advance Justice through community organizing by educating, developing, and helping to empower leaders who will build awareness, educate, and advocate for and create change.
Though we partner with "The Church Without Walls" Creating Justice is a non religious organization and is a project of "The Shaw Community Transformation Corporation" The Shaw is a 501 (C)3 Tax-exempt Organization 01-0804429