About This Fundraiser
Pastor Cue works tirelessly for community and so did his vehicle. Weekly, He provides sound and technical support to organizations like BLM, Clergy for Black Lives, the Black Jewish justice alliance and many, many more. This is in addition to the many rallies, press conferences, marches and summits that he covers or organizes…and also doesn't include the work that happens at The Row: Church Without Walls in skid row, where every Friday, community is fed and full: spiritually and physically. Pastor Cue's famous white pickup has gone on to the great junkyard in the sky. Let's show some love and help replace his truck and simultaneously give the movement a golden assist into the future!
Donate and share this link!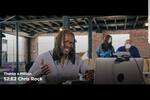 We are a radical church. For the past fifteen years we've tried to live out the way of Jesus among the homeless in The Skid Row Community; located in Downtown Los Angeles. Please take this opportunity to partner with us so we can continue to introduce people to our Lord and Savior and also meet the immediate needs for food, clothing, housing, and most of all Redemption!