About This Fundraiser
The RowLA- The Church Without Walls Fundraising Campaign:
This Saturday August 25th, "The Row LA"- Will be Celebrating 12 years of Ministry in the Skid Row Community- With the help of a few partners, in the past 12 years. We have invested over 1 million dollars; mostly our own time and resources serving the community.
This Celebration is not only to celebrate 12 years of service but it is also the launch of our first ever fundraising Campaign. Please help us as we continue to serve the Skid Row Community.
There are a few ways to participate in this Campaign:
* Do your own fundraiser for "The Row"- Let us know if you're interested in doing so,
you can do this using our platform which is already set up for doing fundraisers.
Go here for more info > https://give.therowchurch.com/fundraisers
* Make A One-Time Donation or Give Monthly
Go here for more info > https://give.therowchurch.com/QuickFund
* Invite Us to Your Church or Organization to share what we do.
Contact Us here > http://www.therowchurch.com/contact_us
The Funds Will be Used for:
* Friday Services
* Bible Study
* Benevolence and Micro Loans
* Social Enterprises:
- Partnering with Creating Justice-LA to Launch The Hip Hop Smoothie Shop
- Launch Affordable Housing programs
- Talent Sharing- Homeless, poor & Community members trade their gifts for your
gifts/financial or other.
* Pastoral Needs and Community Engagement
* By Volunteering your gifts and talents to the Skid Row Community through "The RowLA".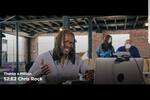 We are a radical church. For the past fifteen years we've tried to live out the way of Jesus among the homeless in The Skid Row Community; located in Downtown Los Angeles. Please take this opportunity to partner with us so we can continue to introduce people to our Lord and Savior and also meet the immediate needs for food, clothing, housing, and most of all Redemption!