About This Fundraiser
IT'S EXPENSIVE TO BE POOR!
Today "The Church Without Walls Helped a Family with four kids who've been living in their car for two years get brakes. They knew they needed brakes but because they didn't have the money. the brakes wore down to the rotors and thus they needed them changed. had they have the resources to get them fixed earlier it would not have been $305.50 for two front brakes.
IF YOU ARE INSPIRED TO CONTRIBUTE TO THE ROW'S ONGOING WORK, WE WOULD APPRECIATE IT. ONE LOVE!
Recent Supporters
No public contributions have been made to this fundraiser.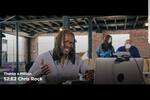 We are a radical church. For the past fifteen years we've tried to live out the way of Jesus among the homeless in The Skid Row Community; located in Downtown Los Angeles. Please take this opportunity to partner with us so we can continue to introduce people to our Lord and Savior and also meet the immediate needs for food, clothing, housing, and most of all Redemption!