About This Fundraiser
Today August 8, 2020 The Row LA- "The Church Without Walls" is Celebrating 14 years in the Skid Row Community. We are Grateful for the Opportunity to Serve Marginalized People Groups in Skid Row as well as the City and County of Los Angeles.
IF YOU BEEN INSPIRED BY OUR WORK CELEBRATE WITH US BY DONATING OR BY SIMPLY SENDING PRAYERS AND OR GOOD VIBES OUR WAY!
BLESSINGS!
~Pastor Cue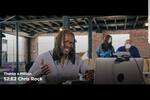 We are a radical church. For the past fifteen years we've tried to live out the way of Jesus among the homeless in The Skid Row Community; located in Downtown Los Angeles. Please take this opportunity to partner with us so we can continue to introduce people to our Lord and Savior and also meet the immediate needs for food, clothing, housing, and most of all Redemption!