About This Fundraiser
In the midst of the Corona Virus Crisis- The Church Without Walls is still serving the Homeless Community. We've been working with our Community partner "The Los Angeles Community Action Network" building Hand-washing stations in Skid Row to pick up the slack where the City is falling short. We've also been advocating; challenging City officials to respond quickly to the crisis. We're also been assisting La Can by feeding homeless folks every Wednesday along with our own feeding services to the community every Friday night.
In addition to providing hand-washing, food, sanitizer, hygiene kits and teaching social distancing awareness we've begun to make face masks to help keep our people protected.
Many of you have asked how can you help in this time. Here are some ways you can help, you can donate blankets, coats, socks, hygiene kits, and money. keep in mind we may not have the capacity to come and pick up the donations so you may need to drop them off.
If there's a homeless encampment near you which has been overlooked and you would like to provide a hand washing station to them here's how to build one, visit La Can's website: http://skidrowpower.com/diy-handwashing/?fbclid=IwAR2BBSJBEroAEaf3d-Q7Bpop69rKSkYRCEMNRFBz1r64WrZGKHzY39pVuSo
If you would prefer that we build it for you send us the donations and we will assist.
Lastly, if you would like to support "The RowLA -The Church Without Walls" on a monthly basis you can do so when prompted after clicking: GIVE NOW.
Thanks for your assistance, and blessings to all.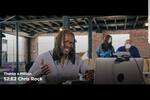 We are a radical church. For the past fifteen years we've tried to live out the way of Jesus among the homeless in The Skid Row Community; located in Downtown Los Angeles. Please take this opportunity to partner with us so we can continue to introduce people to our Lord and Savior and also meet the immediate needs for food, clothing, housing, and most of all Redemption!