About This Fundraiser
When you've suffered indignity, lack of sleep and the seeming absence of human love and compassion, the only thing you can realistically hope to do is handle what you can't avoid with grace.
That is why we have created The Row Purse Project. The purses will be sewn by volunteer seamstress, and filled with hygiene supplies to help homeless women in need. We will use your financial donations to purchase the fabric used to make the purses and fill them with toothbrushes, toothpaste, hand sanitizer, cleansing wipes, tampons and pads and give them away at The Row Church service every Friday night on the corner of Wall & Winston in Skid Row.
Thank you for your generous hearts!
Please contact Jessica Jn'Marie directly at jessicalynn76@gmail.com if you would like to be a volunteer seamstress. The purse pattern will be emailed to you in PDF format with instructions.
In Jesus Name- Let it Be So!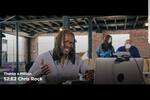 We are a radical church. For the past fifteen years we've tried to live out the way of Jesus among the homeless in The Skid Row Community; located in Downtown Los Angeles. Please take this opportunity to partner with us so we can continue to introduce people to our Lord and Savior and also meet the immediate needs for food, clothing, housing, and most of all Redemption!