About This Fundraiser
Share some Valentine's Day love with Pastor Cue and the Row Church by making a recurring or one time donation to the Row. Instead of chocolates, flowers and teddy bears...give a gift of love to help us continue to love on our church community, our houseless neighbors in skid row and beyond!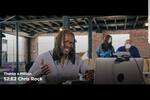 We are a radical church. For the past fifteen years we've tried to live out the way of Jesus among the homeless in The Skid Row Community; located in Downtown Los Angeles. Please take this opportunity to partner with us so we can continue to introduce people to our Lord and Savior and also meet the immediate needs for food, clothing, housing, and most of all Redemption!